I watched a movie this weekend that I had somehow not known about. Amazing Grace is the story of the fight to end Britain's role in the 18th century slave trade. I do sometimes get off topic here, but this is the first time I have ever reviewed a movie! In case anyone has not seen it, I would call this one a "do not miss".
This is the story of a young man whose life-long, passionate political and personal opposition to the slave trade almost sends him to an early grave. I had read a bit about William Wilberforce in history class, but certainly not in the depth this movie provides. The friendship of Wilberforce and William Pitt the Younger, (the youngest Prime Minister in Britain's history), is the central theme of the movie, but there are several other roles that are "amazing" to watch.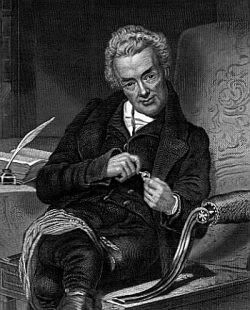 I think the portrayed relationship of Wilberforce to John Newton, an ex slave ship captain, is one of the most moving I have seen in a movie. Albert Finney is astounding as Newton, haunted by his "20,000 ghosts". I learned that Newton is the man who wrote the most popular hymn of all time, "Amazing Grace". I somehow had thought it originated as a Southern U.S. or Island spiritual. It turns out that the slaves in those areas had heard of Newton's remorse and had taken on the hymn as their own. Talk about the power of forgiveness!
There is also some great dialog in this movie. Much is very serious in nature, but some is almost entertaining. Here are just a couple examples that stuck with me:
When Wilberforce attempts to inform Pitt about the importance of being loyal to the King of England, Pitt responds: "You know as well as I do that the King is insane! He shakes hands with trees and claims he can see Germany through his telescope!"
In another scene, Prime Minister "Billy" Pitt is meeting with Lord Dundas before a showdown in The House of Commons, attempting to convince Dundas to take the side of the abolishionists against the slave traders and the plantation owners in Jamaica. Pitt figuratively threatens Dundas, saying, "Don't force me to put a pistol to your head". Dundas replies: "If you do, then then there will be two pistols, one from each side and perhaps if I duck, you will shoot each other." What a great portrayal of politics in just two short sentences!
It's nice to be reminded once in a while, whether by movie, book, or current events, that some of the heroes and conquerors of history were people of peace, rather than war. This is a movie that most will probably love, although there will likely be times, like when Lord Fox pays tribute to Wilberforce, when everyone will be wiping away the tears. Here is a YouTube window of the music video done to promote the movie. You can watch that for sort of a preview, then, if you have not already rented this DVD, get it, some popcorn, have the hankies at hand, and enjoy!