While I am not much of a coffee connoisseur or drinker, I do go through a pound of decaff every 2 or 3 months. Recently, when reaching for the organic beans, I noticed a big "Bird Friendly" label on the bag. I thought "Oh that's cool", but did not have any idea what it really meant. I had read about the importance of supporting economically and environmentally sustainable coffee producers and importers, and when the choice is available, I will always choose organic food, but this was the first time I had heard of "bird friendly" coffee.
With a little research, I discovered that coffee is traditionally a shade grown crop, planted in the understory of mature forests in Latin America. However, several decades ago there was an effort to streamline and "modernize" coffee production to more closely parallel the big business agriculture model that has become so common worldwide. This resulted in a turn away from traditional coffee growing methods. Much of the coffee in Latin America started to be produced on farms where the coffee was either grown under an unnatural canopy of only a few species of mature trees or pretty much right out in the open.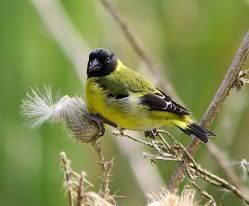 This new approach to coffee growing allowed more sun to reach the coffee plant, but turned out to adversely affect the migratory bird population that winters in Latin America. These migratory birds depend on the varied natural forest ecosystem and it's insect population to survive. Growing coffee this way also introduced the use of chemical fertilizes, pesticides, and disease controlling agents. In addition, the increased sun and fertilizer created a nice environment for weed growth, so the use of herbicides became necessary. Although this method of coffee growing resulted in increased yields per acre, it was eventually realized that the quality of the coffee was inferior to coffee grown in the shade of a natural forest. Coffee producers then began replanting their farms with trees to provide shade for the coffee. The replanting, however, was usually done with only one or a few species of trees, which, although an improvement, did not approach the diversity of a natural forest. In more recent years, growers have come to realize that by planting their coffee in the understory of a natural forest, birds are attracted to the farm and eat most of the insect pests that previously had to be killed with pesticides. Also, because the shade controls weed growth, herbicides are not needed. Finally, the slower growth of the coffee results in a denser, higher quality bean.
The Smithsonian Migratory Bird Center has developed a certification program for bird friendly coffee. Learn more about the history and working of this great program at the Smithsonian web site. If at all possible where you live, try to purchase coffee labeled with the Smithsonian stamp. I found mine in the "health food" section of a small local store, but I notice that almost all Fred Meyer stores also carry it. This certification does not seem to add much to to cost of a pound of beans and your resulting organic morning coffee will be healthier, for the forests, for the birds, for the coffee growers and for you!