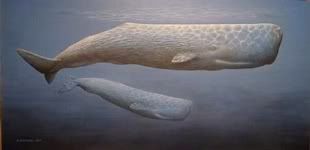 I know this issue has been around longer than many of us have graced this planet, but that is what makes it one of the most aggravating. I grew up in a rural area where hunting was common. I have also been an avid fisherman until recent years, spending a good portion of my time out on the open sea, filling the freezer with the fish that we ate. But, I have always had a problem with the killing of whales. Maybe I am too detached from the culture that has hunted whales for centuries and have no right to be judgmental about the hunt. But it just plain bothers me. The slaughter seems indiscriminate, sometimes with even mothers and nursing babies being killed. Admittedly some whale species have made a remarkable comeback. I also know there is a long tradition of whale hunting in Japanese and some other societies. And I know that most Japanese citizens support whale hunting. But it still bothers me.
So this short post is just to show my support of Les and his "1000 Blog Protest Against The Slaughter Of Whales". Right now you can go to the link and sign up via a comment to get on the petition. I have even offered to help him get a tool like Mister Linky installed on the post to make it easier for him to gather and export all the links he is sure to get. But for now if you leave a comment, he will add your link manually to the list.
So if you feel as I do, head on over there to sign up. If you think this "protest" is way off base, let me know in a comment here. I usually stay away from direct action as it is more my personality to try to persuade with information that allows people to make up their own mind. And I don't have feelings of condemnation towards the people who support the killing of whales or even the hunts themselves. There is just something about killing whales that I can't get beyond, sort of in the same way that I feel about killing gorillas. Maybe I am wrong, but again, it just bothers me. If it bothers you, sign up. If I bother you by suggesting that you sign up, feel free to ignore this plea. Or even better, leave me a comment letting me know that I should not have responded so directly to this old issue. If you support what I am asking, and support the blogging petition, go to the above link, sign up, and let me know here in a comment on this post that you did. Thanks!