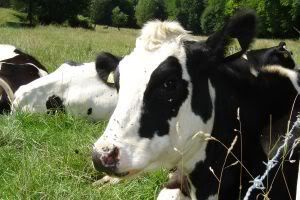 I have written generally and sometimes specifically about "Ethical Food" in many of my posts. There is a newer description these days that is coming on strong. "Humane Food" is the term and really relates to the subset of food we eat that is based on animals or animal products. I think this is really a category under Ethically Produced Food, since by definition any ethically produced animal products would have to be done humanely. But, just like the more blogs writing about these issues the more people will be informed, the more organizations there are promoting responsible food choice, the better known those choices will be. One organization provides a certification label for meat, poultry, egg and dairy products. 
Now when I shop I always make a point to ask the meat department about the humane certification. Unless I am at the local food co-op, nobody ever knows what I am talking about, but it still helps to get the word out. With more and more publicity over some dramatic cruel food cases, maybe people will start to ask their own grocers about the source of their meat and other animal based foods. Please read the above links and ask the meat department where you shop what they have for sale.
When I shop for meat, I look for labels that give me some information about how the animal was raised. Even though I do eat some meat, I always feel uncomfortable when I think about the fact that an animal was killed for me to eat. A label that gives me information about how the animal met its end would be an important factor in my choice of meat.
To me an "Ethically Raised" label would be good if it meant the meat was organically fed, raised in a safe, healthy, and natural environment and processed in as humane a way as possible. One label covering everything may not be possible. But for now, I guess we just need to assume trouble on any meat that is just packaged plainly with no ethical labels at all.