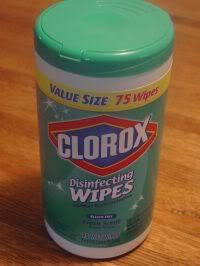 Since posting yesterday's review of antibacterial soap use, I have received two emails plus a comment asking for clarification on the use of hand sanitizer lotions and germ killing wipes. Specifically I was asked about the wipes now found in most grocery stores to clean off the handles of grocery carts before you use them and also about the pump dispensers filled with the germ killing hand lotion so common in office settings.
These products do not have the same issues as the antibiotic soaps. They kill germs directly, without the chance of creating the super bugs that many of us worry about. The lotions usually contain alcohol, the sanitizing wipes can contain alcohol or, like the product pictured here, bleach. If you are using these in your home or workplace, I would make sure that what you purchase does not contain an antibiotic like triclosan. Look at the ingredients and also at the label for things like "kills germs on contact", etc. If you see an ingredient you don't recognize, and can not verify it is not an antibiotic, feel free to ask about in a comment here. I'll find out what it is.
Do you know any of the listed ingredients on the Clorox wipes label? Note how over 99% is "other ingredients". It may be because Clorox claims those "other ingredients" are trade secrets. The law allows companies to use generic terms on labels if disclosing ingredients would "compromise" trade secrets. I guess the regulators have not considered that allowing ingredients to be hidden might "compromise" the ability of consumers to make informed purchasing decisions!
Even though I am showing a picture of the bleach wipes, let's look specifically at pharmaceutical giant Pfizer's product Purell as that is the biggest selling hand sanitizer. Purell's active ingredient is 62% ethyl alcohol. Alcohol kills germs on contact, and then evaporates rapidly into the air. The fast evaporation and the common, long term, use of alcohol in health care, is why the products remind people of the hospital or doctor's office. The "inactive" ingredients in Purell are: Water, Glycerin, Isopropyl Myristate, Propylene Glycol, Tocopheryl Acetate, Aminomethyl Propanol, Carbomer, Fragrance (parfum). I would be hesitant to use much of this, not because of the alcohol, but because of the secondary ingredients. Just for fun, and to show the importance of paying attention to what we put in or on our bodies, let's look at each of the "inactive" ingredients separately. We will skip water!
Glycerin: In its pure chemical state, it is glycerol, which is an alcohol. In the impure state used in products like these it is called glycerin. It is a solvent that when added to water, softens the skin. Glycerin is "thought" to be very safe, even being used in many commercial food products.
Isopropyl myristate: This is used in personal hygiene products when good absorption through the skin is desired. It is also in products used to treat head lice. It does the job by dehydrating the lice and dissolving their waxy coating, allowing chemicals to penetrate and kill them.
Propylene Glycol: This is another alcohol, described as being used as a moisturizer, lubricant, and solvent. It is approved by the FDA for use in cosmetics and food. Interestingly, the FDA does not consider it safe enough to use in cat food. And to think I thought it was only used as antifreeze!
Tocopheryl Acetate: This is vitamin E, more specifically, its acetic acid salt.
Aminomethyl Propanol: A nitrogen based alcohol which mixes with water and other alcohols. It is used as an emulsifier in cosmetic lotions and creams. (Double click on "emulsifier", or any other word, to try out the new Answer Tips plugin I am using.)
Carbomer: If I remember my chemistry correctly, technically a carbonmer is anything that has had 2 carbon atoms inserted into its molecular chain. As used here, it is a trade name for a thickener added to hand lotions.
Fragrance: This is one to watch out for in some products and I am working on another article specifically on this topic. "Fragrance" is a catch-all term for all the chemicals used to scent a product. It sounds harmless, but sometimes hides many dangerous compounds. Like on the Clorox label, the reason the law allows companies to avoid listing the ingredients in their fragrances is that they are considered trade secrets. It is sort of odd that Pfizer puts "parfum" in parenthesis after listing fragrance. Parfum is just the French word for perfume.
In summary, I don't use these types of products very often although I have been known to clean the handle of a grocery cart or two. I don't think they pose any huge danger and the idea that they provide some protection from common cold and flu viruses does have merit. Liquid hand sanitizers are almost universally used in hospital and newborn nursery settings. Many offices are also beginning to use these products as they do kill germs and help to prevent these cold germs and viruses from being transferred from your fingers when you use the copy machine, then rub your eyes, pick your n…, well you get the idea.