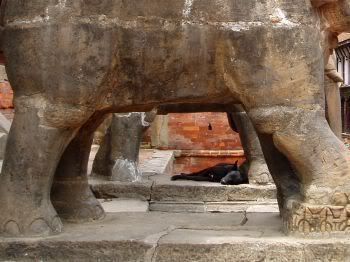 Since I mentioned this show, which ran on The History Channel last night, in a couple of posts and comments, I feel obligated to put a review of it up today.
The verdict, (mine at least), is in on the History Channel's Earth After Humans, or "Life After People"… Two big thumbs down! I must admit I watched only the first hour or so of the two hour show. I did record it, though, and might be able to stomach the rest of it in a week or two. If anyone reading this watched the whole thing and liked it, please post your comments. That might help me find the time to finish watching.
Adjectives like simple, inane, melodramatic, hokey, and dumb, come to mind when describing the show. It really was almost unbearable to watch. The opportunity was there for The History Channel to do something interesting with the topic and they blew it. Their programming has been uneven in it's quality in recent months, and overall I am still a fan of the channel, but this was really bad!
Even from a technical standpoint, the show was weak. Just as one example…. After the first 30 minutes where they kept showing purported examples of what the earth would be like 1 day, 1 week, 1 month, etc. after humans died off, all I could think of was this: "Where are all the bodies?" Unless it was indeed the rapture and everyone qualified, they should have at least acknowledged that there would be some corpses lying around for all the show's escaped pets and zoo animals to feed on.
While watching I came to realize that even the main premise of the show was weak. There was no hint at all as to what might have happened to all the humans. Every scene just portrayed a sort of "here today, gone tomorrow" assumption. Again, unless it was an all inclusive rapture, this assumption is lame. There are many potential dangers that may eventually end the reign of humans on earth, but whatever happens, complete extinction will likely take place on a longer timescale than overnight.
The show is being run again on Wednesday night at 8:00, Thursday at 12:00 am, and Saturday February 2nd at 5:00 pm. Talk about beating a dead horse! Oh wait… sorry, in the show the horses survived, and took over Rockefeller Center or some such place.
I should have just spent my night working on my reading list.