On Thursday my 18 and 13 year old son and daughter wanted to go snowboarding. We have had several feet of new snow recently. It was a pretty stormy and cold day, but with a 4WD truck and snow tires, we really did not have any trouble getting up the mountain. The fun started once we arrived.
They headed off to the ski area and I continued up the road. I love the outdoors, camping, hiking, backpacking, and, that day, cross country skiing. The weather did not concern me as I had been into that backcountry area many times before. I had numerous GPS waypoints on my receiver and knew the roads and trails very well. Still it was an exciting few hours in the wild!
First of all, because of the snow storm, I was alone. It was about 10 or 15 degrees with steady wind of 20 or 25 mph and gusts much higher. As you can see from the above picture, taken with the flash, I was dressed for the weather.
Here are a couple of pictures of the area I was in from a nice day.
And a couple of pictures of the same place on Thursday.
I was not able to ski as far as I wanted to, but made a loop of about 2 miles out, then a mile up into the woods to get out of the wind. Heading back to the truck, after about another mile, I felt something just was not right. So, I stopped to get my bearings. I fired up the GPS receiver to see where I was in relation to points I had marked on previous outings and could not believe the electronics was reading correctly. I had been heading in the wrong direction by about 90 degrees. Very unusual for me, but without any reference in the sky and hardly able to see 100 feet in the blowing snow, I guess it can happen.
Of course, I just changed direction and made it back fine, but it was a reminder of why I usually don't go out alone in that kind of weather. I do have good survival skills and had the GPS and my portable HAM radio, but it was very cold indeed and I was glad I did not end up having any trouble getting out.
I am going back to the same area tomorrow, but it will be a nice day.
Update 1-1-2008: Here are a few pictures from yesterday's outing.
There was someone else out hopping about on this fine morning!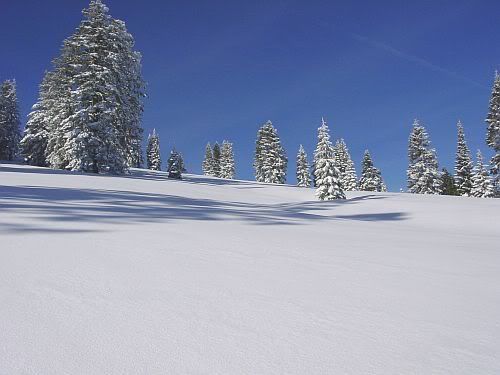 It is so pristine and quiet out here after a new snow.
Happy New Year!