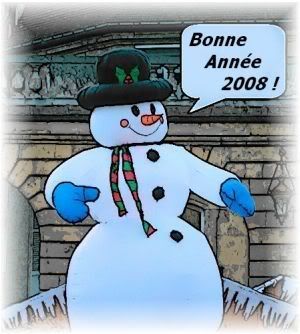 Of course, like most people, every year I get asked about mine. Usually I just chuckle and make a joke of some sort. This sometimes does not go over well with people who take their resolutions seriously, but my honest answer sometimes is worse if I don't have the time to explain fully.
The truthful answer is that I do not make them. When I say that I am almost always asked why. If I have the time to explain all goes well. But if all I can say is that I try to think about my daily life as if every day was January 1st, some people get offended. Or even worse, think I am being an elitist, "I'm better than you", type.
The longer explanation is that I don't mean to imply that I have more willpower, spine, constitution or anything else. As a matter of fact, compared to some I have known, my resolution power is not all that great. Always doing what I know I should is a struggle for me just like almost any other busy person who likes cookies, ice cream, red meat, movies, sleeping late and who does not like solitary forms of regimented exercise. Fortunately, I can offset that with hockey, hiking, gardening, and all the healthy things I do like to eat.
I certainly do believe in trying to improve parts of your life that you feel could use improvement, it is just that I find myself more successful if I try to keep the New Year's Resolution thing in mind year round. I know that if I made a big deal about January 1st, I would probably have a good run for a month or two, then fall off the horse and start waiting until the next New Year to try again.
I think it is also easier to be successful if you spread out your goals over the year because this allows you to chop them up into smaller, more realistic pieces. So, if you are New Year resolution type of person, maybe this year, try to make 12 "New Month" resolutions. Like most things in life, smaller pieces can be easier to digest!
So Happy New Year! and Happy February, March, April, May……… December, also. Remember that children's story? Small steps really did work for the tortoise and they can for us also. Acknowledge your normal "shortcomings". Find your own offsets and view them as the positives they are. Focus less on your small vices and you will be happier overall. Maybe next year you will find you don't feel the need to make New Year's Resolutions. Then you will just have to come up with your own answer when asked "why not?".