I have written up a few recipes here and on another site and I always get an email or two asking for more. I don't do it often, because of the way I cook. Although I love to cook, I tend not to follow exact recipes, often just making it up as I go along. Other times I get out a bunch of cookbooks, read several recipes, or maybe just read about the ingredients I plan to use, and go from there. In the end, there is usually something good to eat, but no paper trail. Feeling bad that it has been five or more months since I posted a recipe, I decided to take notes as I made this soup last weekend. I'm watching one of my top 20 favorite movies, Fried Green Tomatoes, typing this during the commercials, so lets hope I don't leave out any steps! Without further commentary, here it is.
~~~~~~~~~~~~~~
Serves: 15-25: (Got a freezer?) 🙂 Or, you can do the math and adjust the size. 🙁
Ingredients: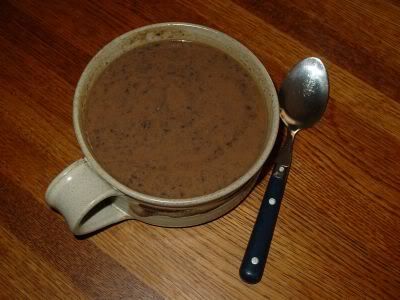 1/4 cup organic olive oil
4 lbs Organic Black Beans
1-1/2 cups diced organic red onions
3 tablespoons organic ground cumin
Several fresh organic garlic cloves
6 tablespoons organic honey
1 quart homemade organic vegetable stock
1 quart homemade organic turkey stock
42 oz organic medium salsa
The juice of several organic limes
One large bunch of organic cilantro
This one is truly organic as I made it, but if finding everything in organic form is not possible, make substitutions as you need to.
Wash the 4 lbs of black beans, sorting through them for small stones. I never find any, but was told 20 or more years ago to do it and the thought of what might happen to a tooth or my blender if I skip this step… well let's just say I never skip this step.
Put the beans in a large pot covering with twice as much water as beans. Bring to boil, reduce heat, and simmer for two hours. Drain the water. You can also use the traditional non-cook method of soaking the beans overnight, but I find the shorter hot water method better for reducing the chance of encouraging those deadly air biscuits that legumes have been known to associate with.
I then put the warm, drained beans through my blender. Don't overload the machine, do it in several smaller batches.
Next, add the stock and the beans to a large soup pot and heat to a low simmer. I make stock in large batches and freeze it for future use, but you can use whatever stock you like.
While the stock and beans are heating, warm the olive oil in a pan over a low flame. Add the onions and minced garlic and cook until clear and soft. Stir in the cumin and salsa and cook only until heated through.
Scrape the cooked mix from the pan to the stock and beans in the soup pot. Cover and cook on the lowest possible heat for two hours. I use a gas burner on the lowest setting with a cast iron plate between the flame and pot. Even with this I had to stir several times to prevent the soup from sticking to the bottom of the pot. Don't let it boil. Ideally it should stay just below the bubbling point.
After the two hours, allow to cool a little and add enough cold water to get the soup thinned to the consistency you think you want in the end. At this point I again process the mixture in small batches through the blender. Return the pureed mixture to the soup pot. Slowly heat again, and when hot, add the juice of the limes, the honey, the very finely chopped cilantro, and any more water needed to get your desired thickness.
Because any soup made with beans will separate a bit, my final step is to bind it all together with a butter and flour paste. Mix 8 tablespoons melted butter with 8 tablespoons of organic flour. When blended into a smooth paste, add a cup of the soup to the mixture and whisk well. Slowly add this to the hot soup, mixing very well. Simmer for 10 minutes and turn off the heat.
Taste the soup and add any salt or pepper you think it might need.
After eating our fill, I divided the remaining soup into 3 portions, freezing two of them and keeping the third in the refrigerator to have during the week. I also make a black bean and beet soup that is best in the summer, served cold. Maybe I'll write that one down the next time I make it. If you try this recipe, please leave a comment and let me know what you think. Cumin is not an uncommon spice in bean soups, but this one has a hefty amount. Enjoy!